Field Trip Fridays | O-M Ceramic
Who doesn't love ceramics?
The beauty and function of each piece is easily why I can never have too many (seriously).
In celebration of our Dovetails & Darts x O-M Ceramics collaboration, we took a field trip to the Los Angeles based ceramic studio of Carrie Lau. Focused on a minimal and contemporary form, Carrie created O-M Ceramic - which stands for OBJECT-MATTER. Her work is distinguished by a modern and curvilinear form, as well as playful movement and natural tension. The perfect balance of structure and fun. Just the way we like it.
Follow along as Carrie shares her space and thoughts on how she got started below. And don't forget to check out our latest collaboration of homewares here
How do you describe your work?
I would say its minimal / contemporary, also playful and fun. I wanna do something fun!
How did you get into working with clay?
I was introduced to ceramics by a good friend few years ago; it became my hobby and soon I realized I was seeing it as my meditative tool. It gave me room to be creative. It always surprises me how they turn out after throwing/ trimming and firing.
About two years ago, I was encouraged to start my own brand, and since then, I have been going to markets, craft shows, working with some stores as wholesale or collaboration, along with my online store.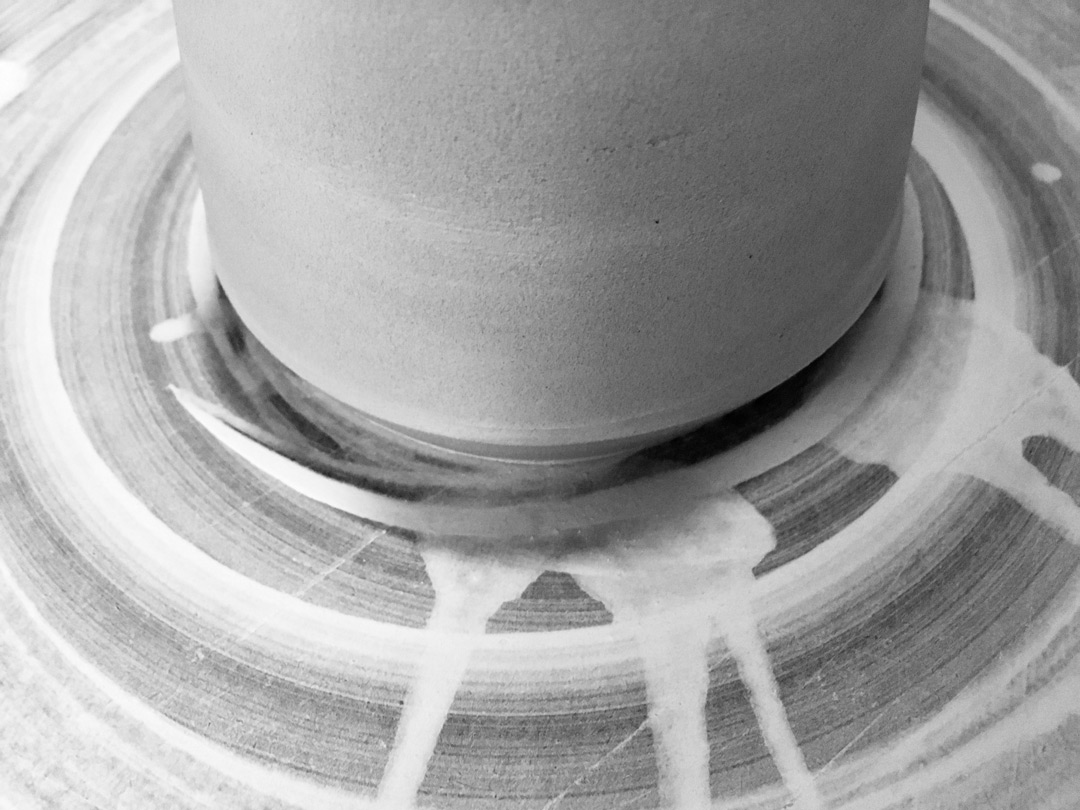 I've noticed a strong use of geometric patterns and color in your work, which I love. Where does that come from?
When I draw, geometric shapes always come first. I like simple shapes/ objects. Being a graphic designer for years, I have always been inspired by people, works, cultures. Travel is my number one source of inspiration.
Also, color itself is beautiful, it has its own character and can tell you a story. Playing with colors and shapes gives me so many possibility to be creative, its part of my passion.
What designers and artists do you follow for inspiration or fun?
Rei Kawakubo - Fashion Designer and founder of Comme des Garçons
Yayoi Kusama - Artist and Designer with an upcoming Infinity Mirror Installation at the Broad this fall.
Yoshitomo Nara - Artist from Tokyo
You've mentioned you left a full-time job as a graphic designer. Was that a hard decision?
I left my full time job as designer to be a freelancer and started a small studio 3 years ago. I wasn't planning to be a ceramist at that time. I was still figuring out what I wanted to do. Two years later, I decided to do my first show at Renegade LA.
The benefit of being a freelancer is you can manage your time better between work and other things, the downside of it is $$. It may not be stable, if you prepare for that, and put as much as effort as you can to pursuing what you want to do.
Finding balance and value are important. I still enjoy and have been doing graphic design and art direction work alongside making ceramics.
What's one piece of advice for people considering leaving their jobs to start their own thing?
Be prepared and bring patience to what you believe. Things will turn out beautifully.
You have some rad retail collaborations. Can you offer some words of advice for aspiring designers to break into retail?
The more you put your work out there, the more feedback you will get. I connected with people through different ways - retail, craft fairs, social media, or in my friend circle. It's really fun collaborating other artists, creatives or stores to keep developing your work. Be open to any opportunities and ideas!
You're based out of Highland Park in LA. What do you enjoy about living there?
I've been living in HP for 5 years, I see the changes, especially these last 2 years. Things changed so fast, and there are so many cute, cool and new things happening in HP and LA. I enjoy seeing the new things pop up and how the community becomes more solid and safe. The art and handmade culture in LA is amazing, people are being supportive of your work and that allows me to connect with the creative community and stay inspired.
Lastly, I can drive around LA aimlessly looking for a good place to stop. What's one local foodie recommendation you have?
Its hard! Coffee is a must for me, Civil Coffee & Cafe de Leche. Hands down.